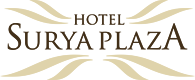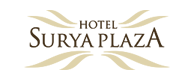 Ambrosia Restaurant Kota
Dining at Surya Plaza Kota
Ambrosia means food fit for the god's and that's what we aim at, to serve food fit for god's.
The restaurant offers a fine dining experience with classical cuisine. The culinary essence is traditional and authentic Indian cuisine with a strong creative element ,the restaurant also offers an excellent variety of continental and Chinese cuisine.
The restaurant is elegant and graceful yet also young and vibrant. The ambience of the restaurant exudes contemporary elegance and comfort, restaurant's kitchen plays an important role in the overall ambience, offering a large picture window through which you can observe your meals being prepared. 24 hours In-Room Dining is also provided , a pleasant alternative for guests who may prefer to relax and dine in the comfort of their rooms.
The Skyroom
The Skyroom as the name signifies is a rooftop restaurant & Lounge serving a multi-cuisine menu , having mesmerizing views of the Kishore sagar Lake & the city skyline .