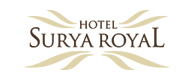 Swagat Restaurant Kota
Dining at Surya Royal Kota
Swagat is an authentic fine dining restaurant Kota offering a variety of cuisines reflecting the distinctive style of cooking. In a short span of time "Swagat" has claimed its presence as one of the best restaurants in Kota, Rajasthan with delicious food and fine dining experience. Swagat is a multi-cuisine restaurant. Here, we guarantee you to provide full satisfaction, quality, professionalism and of course great quality of food.
The relaxed sitting and soft lighting and exquisite interiors provide an atmosphere which welcomes you to all types of dining occasions from business breakfast to an informal lunch or an evening family dinner. The menu explores from rich Indian curries to mouth-watering starters, Chinese and continental dishes satisfying your taste buds.
All the restaurants in Kota under the chain Surya group of hotels are renowned for the best of taste, quality and hygiene. The kind special feedback of all the honorable customers from all over the world has given us the strength to follow this tradition in the future, and very soon more restaurants are going to be added under this chain.